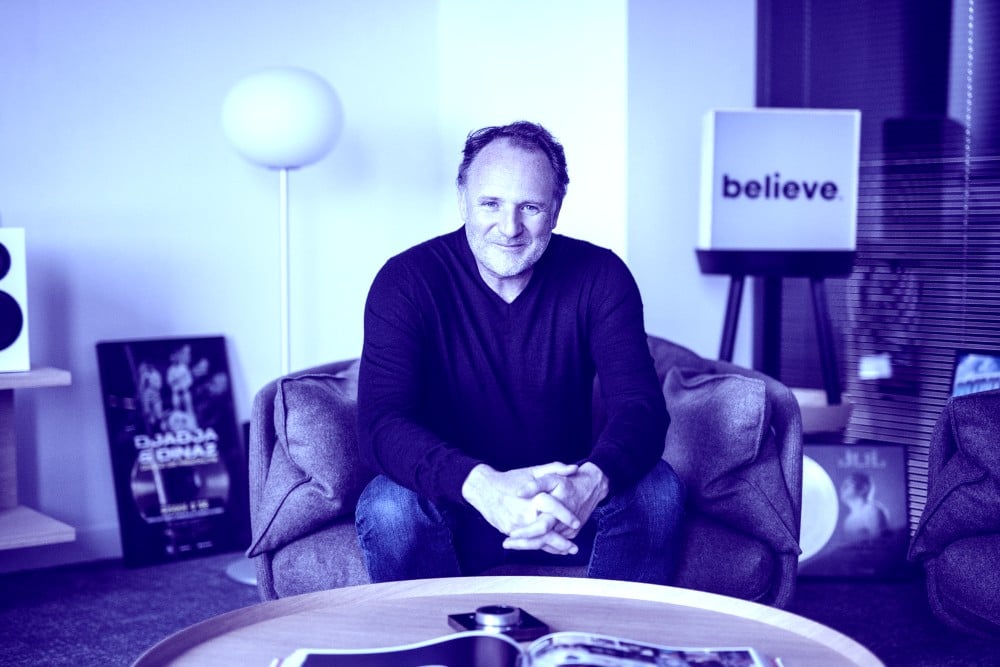 Some record companies fear a "difficult economic climate". Believe has just increased its revenue forecast for fiscal year 2022.
The biggest music business story today (August 3) will likely forever be remembered as SoundCloud's shock news that it will cut a fifth of its global workforce in response to "financial market headwinds" and to the "difficult economic climate" of 2022.
SoundCloud, of course, isn't the only music company worried about the impact macro factors could have on its business in the second half of this year.
However, there is another side to this story, and it comes from Paris.
Believe, the French-born distribution and services company (and owner of labels such as Nuclear Blast), today released its results for the first half of 2022 (for the six months to the end of June).
These results make for great reading:
Believe Group revenue growth in the first half +35.4% over one year at €352.2 millionand until 35.6% year over year on an organic basis (ie by updating the acquisitions made this year);
The company's digital revenue growth increased 37.8% year over year over the period, reflecting what Believe calls "strong market share gains";
During the first half of 2022, Believe's revenue in Asia-Pacific (APAC) and Africa increased by a huge 61.0% year over year to be present 25.8% of Believe's total revenue. (In addition to organic growth in APAC, Believe benefited from transactions completed in Q4 2021 in India and the Philippines);
Believe's adjusted EBITDA in the first half of 2022 increased 60.5% year over yearreaching €11.7 million;
And Believe told markets today that after a "very dynamic" period in the first quarter of 2022, it actually saw "accelerated revenue growth" in Q2 2022.
Still, today's most important Believe announcement may not be about what's already been made, but what's to come.
---
---
Believe, listed on the stock exchange in France, clearly has the wind in its sails.
And while the company is cognizant – and even conservative – of certain macro threats facing all industries in H2 2022… today it increase its revenue forecasts for the full year 2022.
To put it simply: Believe believes the global music industry still has a very positive story to tell in 2022, despite the broader economic gloom surrounding it.
Believe today announced that it now expects its fiscal 2022 organic revenue growth to be approximately +29% over one year.
This is significantly above the company's previous guidance released in May (+20%) – and also above the year-over-year growth range Believe said it expected for the 2021-2025 period when it went public last year (+22% at +25%).
Excluding Russia and Ukraine, Believe now expects its company's organic annual revenue growth in fiscal 2022 to do even better, reaching +31% year over year.
What motivates this confidence?
This: Believe provides that paid Growth in music streaming — especially in markets like APAC, where the company has invested heavily — will prove "resilient" in 2022, despite global economic challenges.
Believe therefore predicts that paid streaming (its biggest source of income) "will continue its solid growth trajectory, especially in the main [emerging] markets".
Based on this assumption, Believe believes his business will continue to grow organically in H2 '22 – but, he says, at a slower pace than in H1 '22.
Don't let it be said that Believe ignores the broader economic risks that lie ahead for itself and the entertainment industry.
For one thing, Believe today admitted to seeing "a slowdown and then a leveling off in ad-supported streaming revenue growth in June." As such, the company says it now expects ad-supported continuous growth is expected to remain at the slowest pace (which it saw in June) in the second half of 2022.
(Speaking to MBW, Believe boss Denis Ladegaillerie recently predicted a potential slowdown in growth in the general global online advertising market in H2 2022 due to market economic pressures.)
---
Then there is Russia's invasion of Ukraine.
Believe, like many music rights companies, has previously anticipated that this ongoing event will adversely affect its global business in fiscal 2022.
However, in an update today, the company shared some surprising news: "Believe's Russian and Ukrainian business units experienced a more limited revenue growth slowdown in Q2'22 than initially expected, with rising revenues. +9.2% in H1'22 compared to last year (revenue growth in Q2'22 was +2.9%)."
Believe attributed the better-than-expected performance to "the strength of [Russian currency] the ruble and increased monetization by local DSPs".
Believe added: "The situation in Russia and Ukraine is subject to changes in local and international regulations as well as the exchange rate of the rouble. However, the strength of the ruble should attenuate the slowdown in activity in H2'22 and [Believe's] income [in the region]…should be roughly flat compared to FY'21. »
He added: "Believe operates in full compliance with international sanctions and recommendations and closely monitors their development to take any further action required."
"Despite today's challenging economic and geopolitical environment, our organic growth in the first half was stronger than last year, and…we expect to remain on a solid and positive profitable path in the second half. ."

Denis Ladegaillerie, Believe
Also contributing to Believe's optimistic global outlook for FY2022: a positive impact of approximately 2% related to the extension of the service agreements concerning Play Two, Jo&Co, Think Music and VMAG, which were concluded within the framework of the strategic partnerships of Believe signed with these companies in the fourth quarter of 2021.
Commenting on his company's first-half 2022 results today, Denis Ladegaillerie, Founder and CEO of Believe, said, "Our model and strategy drives increased financial performance every quarter, driving the success of artists and labels who trust us.
"Despite today's challenging economic and geopolitical environment, our organic growth in the first half was stronger than last year and we generated positive free cash flow. We expect to remain on a strong and positive profitable trajectory in the second half and will continue to invest in our central platform and local teams to continue to innovate for our artists and labels and drive future growth.
(Believe's "Central Platform" is the proprietary technology platform upon which its global operation is based and in which it continually invests.)
---
Elsewhere in Believe's first-half 2022 results today, the company broke down the DIY distributor's performance TuneCore (referred to as "Automated Solutions" in its results) as well as the performance of its core premium label and artist services business (referred to as "Premium Solutions")
'Automated Solutions' saw its net sales increase by 34.9% year over year in H1 2022, at €23.0 million. During the second quarter of 2022 (June), TuneCore switched its pricing model to a one-time annual subscription for artists wishing to distribute music (and/or purchase additional services) through the platform.
However, the vast majority of Believe's net revenue in the first half of 2022 came from its "Premium Solutions" business. This segment contributed €329.2 millionat the top 35.4% year over year.
In addition to acquisitions (Play Two and Jo&Co (France), Think Music (India) and VMAG (Philippines), Believe specifies that this rise in power of "Premium Solutions" has been "fuelled by market segments that have now become digital".
He added, "Believe is leveraging its well-mastered plan to deploy new dedicated teams across all geographies to seize new opportunities by leveraging core platform supply chain, rights and marketing tools. Therefore, [Premium Solutions] increased both its list and its profitability.
Believe says the "Premium Solutions" business – which works with "established artists through to the very best" – has "also demonstrated a significant increase in market share".
---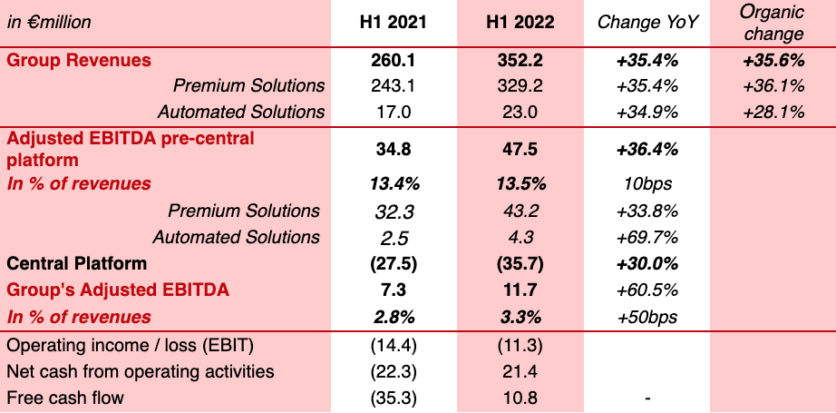 ---
Meanwhile, in the first half of 2022 (see above), Believe's free cash flow improved to €10.8 million (compared to a deficit of €35.3m in H1 2021), while its operating loss is reduced to €11.3 million (from €14.4m in H1 2021).
In a statement regarding profitability today, Believe said, "Believe intends to continue to invest significantly in the core platform and local teams in H2'22 to fuel future profitable growth. . The investment cycle will be actively managed as the level of economic uncertainty remains high.
"The Group will continue its efforts to further strengthen its market position as the digitalization of the music market develops in all countries. As a result, Believe expects its adjusted EBITDA margin to be around last year's level (4%). »
He added: "Believe remains confident in its ability to achieve its long-term objective of achieving a Group Adjusted EBITDA margin of 15%."
The music industry around the world