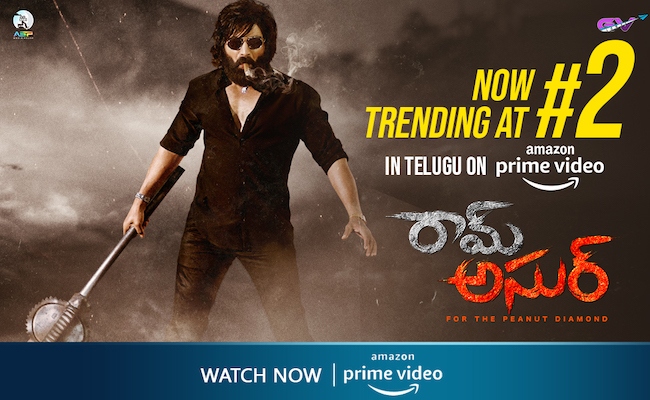 Ram Asur becomes the most-watched movie on Amazon Prime
RamAsur is making its way to trending position on Amazon Prime.
As these Sankranthi releases turned out to be box office duds, audiences turned to OTT, and it didn't fail to give them what they needed. This time, his only content-driven stories grabbed the viewer's attention. And RamAsur fulfilled the requirement for complete entertainment. Therefore, the film received all kinds of compliments which paved the way for the trending position.
Abhinav Sardhar and Ram Karthik starred in the sci-fi thriller Ram Asur directed by debutant Venkatesh Triparna. Apart from playing the lead role, Abhinav Sardhar also produced the film with its director Venkatesh Triparna on ASP Media House and GV Ideas.
While Ram Asur has done well for its budget in theaters, the film is unstoppable on the streaming platform. Premiered during Sankranthi week, Ram Asur received an overwhelming response from viewers. Curiously, Ram Asur has become the most watched movie in the sci-fi genre in India and the second most watched movie after Pushpa in Telugu last week on Amazon Prime which is the world's leading streaming platform.
Apparently, those who missed seeing the film in theaters are quite surprised to see the content, direction, and performances of the main cast. In fact, the story written by Triparna Venkatesh is very unique for the Indian audience.
Abhinav Sardhar appeared as a beast with a well-built physique, in which he put in a remarkable performance. Ram Karthik also played his role effectively. Although this is his first film, Venkatesh Triparna has handled the subject with maturity.
Chandini Tamilarasan was praised for her cute village look and stellar performance. Her expressions in the song Emchesavo Maya were a treat to watch. Sherry Agarwal's glamorous looks appealed to youngsters, while Shaani Salmon played a vital role in the film whose music is by Bheems Ceciroleo.
CLICK HERE!! to look at Movie RAM ASUR in INDIA.
CLICK HERE!! to look at Movie RAM ASUR in the United States.
New app alert: all OTT apps and release dates under one app